From your glass to watering crops, pumps used in the delivery of water need to be reliable and efficient. At the same time, operators need to meet regulatory requirements and minimize operating costs. Together, our expertise in clean water pumping technology ensures quality throughout your water network. Best-in-class solutions developed using our unrivalled application knowledge maximize the effectiveness of your clean water processes.

See how the quality of your water treatment, supply, distribution, irrigation and intake applications can be optimized with our solutions.

References in clean water
Engineered for excellence
The workhorse of many water applications, the SMD is compliant with French ACS and US NSF 61/372 drinking water standards.
Multi-function design
The SMD can be engineered to meet all water applications including raw, clean, sea and brackish. We can adapt the design to meet your specific application criteria. Ideal for transport and pipeline applications, the SMD pump is designed to deliver extended reliability, even in more arduous conditions. Available as a standardized design or configured to a specific application, the SMD offers optimum performance.
Discover the parts that makes perfect, press the hotspots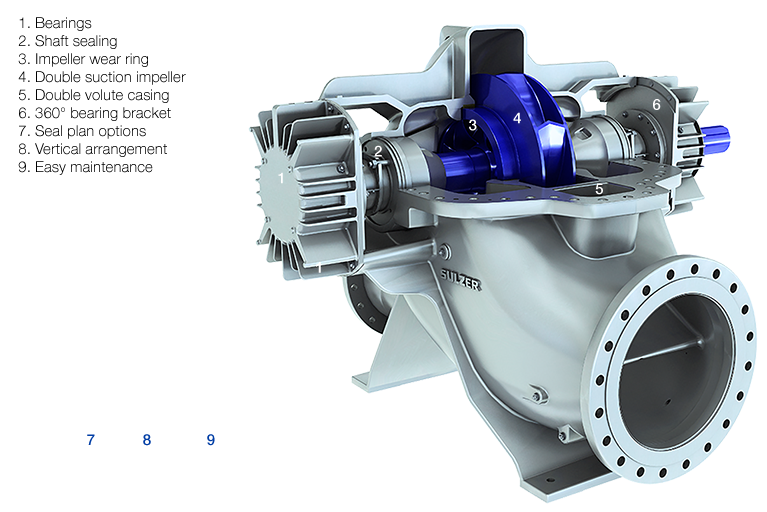 Quality by design
Designed to offer exceptional efficiency, SNS end-suction process pumps also deliver reliable service thanks to advanced development processes and materials.
High performance as standard
Excellent hydraulic power delivers increased flow and higher head than conventional pumps. Advanced design features enable the SNS to exceed industry efficiency standards and provide extended reliability and low maintenance costs for operators.
Keep sand at bay
For applications involving raw water, material options such as Stainless and Super Duplex steel help the SNS tackle contaminants, such as sand. Extended resistance to erosion and corrosion deliver long-term durability in more demanding applications.

Efficiency by design – see for yourself!
All part of the process
The AHLSTAR A is an industrial process pump, featuring high specification materials, technologically advanced design and options such as cast-iron casings.


Clean and compliant
Designed to meet the requirements of municipal clean water applications, the AHLSTAR A is compliant to ISO 5199 with dimensions in accordance with ISO 2858.


Clean running
Optimized efficiency helps municipalities minimize running costs and improve sustainability. Its versatile and modular design covers a wide variety of applications and minimizes spare part inventories.
Learn more about the Ahlstar A
Ready for the water cycle
The JTS pump is ideal for inlet, river extraction, filter feed, raw water and agricultural pumping applications.


Let flexibility flow
Flexible designs and dimensions ensure a perfect fit for specific customer applications. Additional stages and impeller options are ready to meet increased head specifications.


Safety first
All wetted parts, from top to bottom, are fully NSF 61/372 certified, ensuring the use of fully compliant materials throughout, promoting water safety.
Quality as standard
Sulzer is committed to achieving the highest local, national and international standards for water quality. Our solutions are designed to help safeguard the cleanliness and safety of water supplies.

The continuous improvement of our products ensures that our solutions for clean water applications meet at least one of three internationally recognized standards.
ACS (France)
NSF (USA)
WRAS (UK)
Any tenders outside of these countries will quote one of these applicable quality standards. Our product webpages state which standard applies to each pump series.
Learn more about our clean water offering