You can engineer a better future
Become a Sulzer apprentice and make a difference in the world!
From delivering clean water to supporting renewable energy; from developing new recycling methods to reducing emissions – Sulzer is working every day to engineer a better future.
But to achieve the next breakthrough, we need your help.
Work with world-class customers, challenge yourself with advanced technologies and help improve sustainability across industry. For nearly 190 years, we have nurtured young engineers who have helped to discover new innovations and achieve their goals.
Shape your future
We offer a wide variety of fully-funded Level 3 apprenticeships, with varied avenues and opportunities available to students.
College and practical learning
Increasing pay throughout your apprenticeship
Work across varied service centers and industries
Explore your interests and specialize in your subject
Gain sponsored educational opportunities and earn higher qualifications
Be mentored and supported by expert technicians
Sulzer is global and offers opportunities worldwide
Work with new technologies and exciting applications
See progression through structured learning and assessments
With you every step of the way
Varied opportunities
---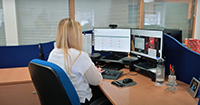 A variety of apprenticeships offered for the opportunity to explore your passion.
Senior technicians
---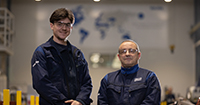 One-to-one training with experts across multiple service centers, projects and industries.
Buddy scheme
---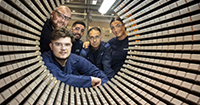 Get guidance and advice from successful apprentices who understand your journey.
Master your craft
---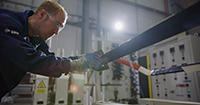 Specialize in what you enjoy most and become a master in your chosen discipline.
Our Stories
Joining the industry-acclaimed Sulzer apprenticeship scheme puts you at the forefront of engineering.
Greig Johnston
Fitter
"You make your own luck."
Greig works full-time building efficient pump units in support of the UK's energy supply. During his apprenticeship, Greig experienced the machine shop, fitting shop, and many other technical departments. He took the opportunity to collaborate with engineers nationwide, testing seawater injection pumps and working with compressors.
Supported by Sulzer, Greig has gained a Higher National Certificate (HNC). He has also completed a Higher National Diploma (HND), achieving an A grade. Having completed his apprenticeship in July 2022, he is now undertaking a degree in Engineering at Robert Gordon University. Proving his own philosophy, Greig's hard work was recently recognized at The Association of Electrical and Mechanical Trades (AEMT) Awards 2022, where he received the Rising Star Award.
Open days
If you want a taste of what it's like working for one of the world's premier engineering companies, we'd love to host you at one of our open days, where you can expect a workshop tour and much more.

To find the open days nearest to you, please email maya.brolls@sulzer.com
How to enroll
We work with the best colleges and training providers in your local area, so you can be sure of an approved, streamlined enrollment process.
Wherever you are joining from, we'll give you the opportunity to show your skills in interviews and practical assessments, with any offer provided well in advance of our September induction. At the induction, your family is also welcome to visit us to see our state-of-the-art facilities and meet our friendly experts.
To apply, please join via our
sulzer.com/careers
from February 6, 2023 for the September enrollment.
We work with the best colleges and training providers in your local area, so you can be sure of an approved, streamlined enrollment process.
Colleges & Training Providers
Got Questions? Please email
Maya Brolls
Early Careers Coordinator, Services UK