Sulzer Technical Review Issue 1 / 2019
March 22, 2019
Water is life
Because life is fluid, Sulzer cares about water and the water life cycle. Pumping and mixing fluids, especially water, is one of Sulzer's core competencies. Get to know how water is processed – how it is moved, cleaned or desalinated. You are sure to be surprised by the variety of products Sulzer offers for use in the water cycle.
The natural water life cycle involves the continuous circulation of water on our planet, in the earth, oceans and atmosphere. Although the earth consists of about 70% water, only about 2.5% of that is freshwater, ice and glaciers. According to the United Nations Water Report 2018, global water use has increased by a factor of six over the past 100 years and is expected to grow steadily. Accelerated urbanization and the expansion of municipal water supply and sanitation systems also contribute to the rising demand. At present, nearly half the global population live in areas that are potentially water-scarce at least one month per year. As presented in the United Nations Water Report, in 2010 the agricultural industry was responsible for 70% of the world's freshwater consumption and wastewater production. Municipal and industrial use accounted for 11% and 19% respectively (Fig. 1).
There are numerous approaches necessary for our global societies: optimizing water supply, increasing water quality, improving wastewater management, using nature-based solutions to protect water.
Water — a driving force of technology for thousands of years
All life on our planet depends on water. This important natural resource is used by mankind for many purposes. The supply of human settlements with water has been an important driver of technical developments and engineering achievements for thousands of years.
Ancient Egyptians irrigated their fields about 5000 years BC. They invented pumping stations with bucket wheels that they used to lift water from the Nile. The Romans developed hand-driven double piston pressure pumps, build from oak wood, lead and leather sealings. Aqueducts were used throughout the Roman Empire, most of which were open and used gravity for water transport. As an example, the Pont-du-Gard aqueduct in southern France, built around the first century AD, was constructed up to 49 m high to overcome height differences in the land. Even at that time, basins for maintenance, water collection or flood control were built inbetween the aqueducts, tunnels and pressure pipes.
Water retention is also of vital importance. Large dams in Sri Lanka, Turkey, China and India display the impressive engineering progress of former cultures. The Sadd-el-Kafara dam near Cairo, Egypt, is considered one of the oldest dams still partially preserved, having been built sometime between 2950 and 2500 BC.
Wastewater collection started already in the 4th century BC. The so-called Cloaca Maxima in Rome collected wastewater, toilet waste and rainwater below the ground to be drained off to the Tiber river.
Today's product range for water
The application area of Sulzer products for water is extremely wide. There are 13 main areas shown in the picture below. If you click on the blue dots, you get more information:
1. Water intake 2. Water transport 3. Irrigation 4. Municipal water treatment 5. Municipal water distribution 6. Domestic and commercial wastewater collection 7. Municipal wastewater collection 8. Municipal wastewater treatment 9. Flood control 10. Industrial water treatment 11. Industrial wastewater treatment 12. Desalination 13. Power generation.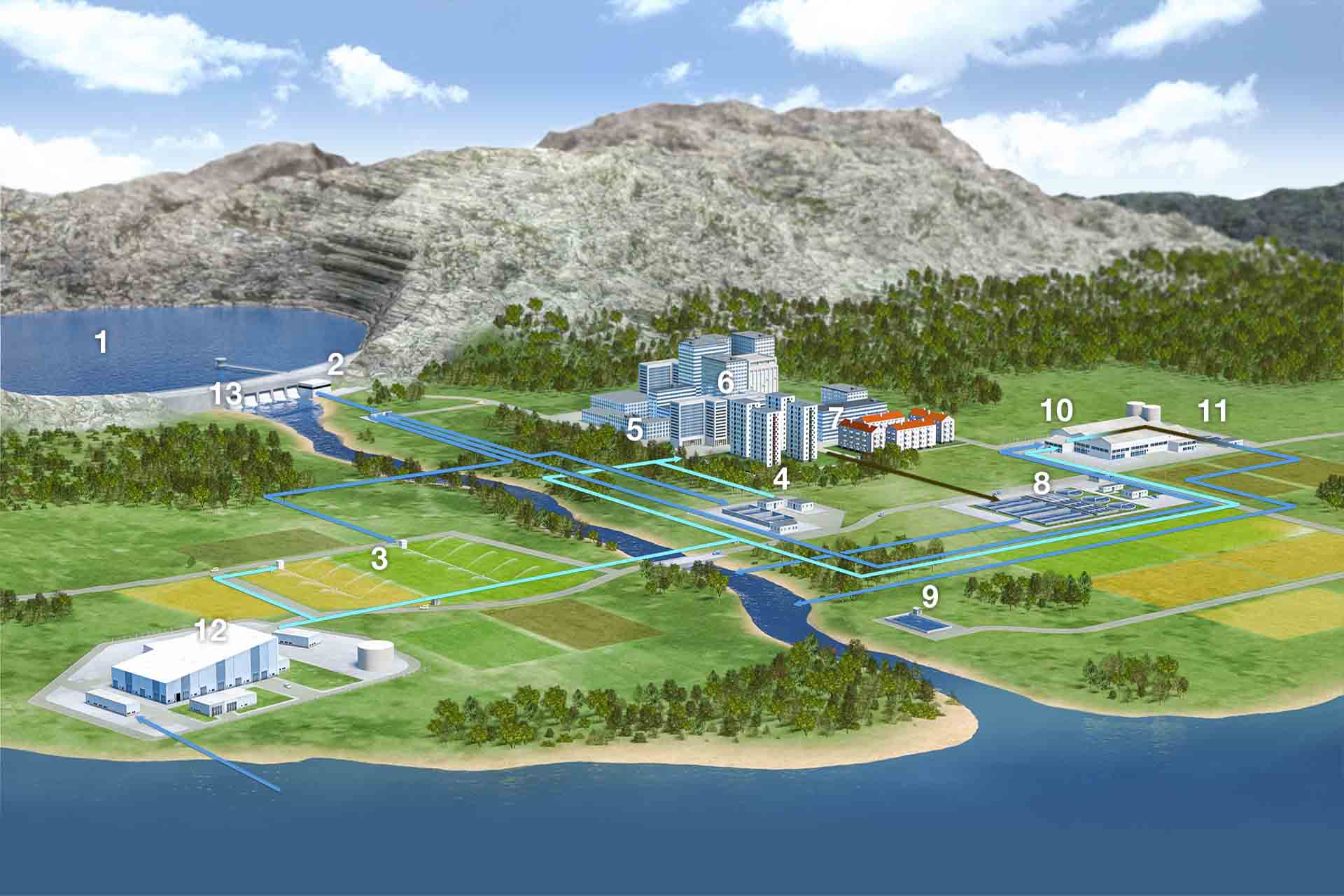 Water intake, transportation and irrigation (1) (2) (3)
Sulzer brings water from its natural source to where it is needed cost-effectively, operating at the highest level of reliability. Antonio de la Torre, Business Development Manager Clean Water, states: "Our pumps are designed according to state-of-the-art engineering standards. We not only deliver the product but also analyze in detail the operation of the pump within the system. As an added value, we also offer sump model testing, early-phase project support for pumping solutions, piping recommendations and pumping system analysis."
To guarantee superior water transport without losses and with low contamination, some water pipes are coated on the outside to prevent corrosion after welding. For this purpose, Sulzer offers MixCoatTM dispensers to efficiently mix and apply these two-component coatings on the outside of water pipes.
Customers have a choice between several pump models for gravity and pressurized irrigation systems. For the homogenization of different water streams or injections of chemicals in pipes or open concrete channels, customers have a choice between several static mixer models.
Main products and model range for water intake, transportation and irrigation
Municipal water treatment (4)
Clean water is essential to people and environments all over the world. However, freshwater, as it is found in nature, is often not suitable for human consumption. Sulzer provides environment-friendly, energy-saving solutions to pump and mix water through the necessary mechanical, biological and chemical treatment stages, to ensure that drinking water meets the international standards required by the World Health Organization and the other national health regulations.
When planning new water treatment plants or upgrading existing ones, operating costs are as important as investment costs. Knowing that energy costs are between 80–90% of the total cost of ownership (TCO) of a process pump, Sulzer customers appreciate our ongoing engineering efforts to reduce the power consumption of pumps (Fig. 4). Using a highly efficient static mixer has two advantages: no extra power is needed and the pressure loss is very low. This leads to an insignificant increase of the power consumption of the pump over the lifetime.
Main products and model range for municipal water treatment
Municipal clean water distribution (5)
Getting drinking water to all parts of a distribution network involves many challenges along the way. From the water treatment plant through pumping stations and beyond, pumps lift and move the drinking water to bring it to its destination with sufficient flow, pressure and quality. Our pumps and static mixers have drinking water certifications meeting the most recognized international standards. This ensures that only the highest quality drinking water reaches the user's tap.
Our products even support efficient-pipe repair. Cracks in older canalization pipes can be coated with Polyurea and the help of MixCoatTM applicators.
Main products and model range for municipal clean water distribution
Municipal wastewater collection (7)
For wastewater collection, safe and reliable operation is important. This is why Sulzer's developments for wastewater solutions focus on safety, reliability and efficiency. A broad range of pumps, submersible mixers and agitators, aeration systems, high-speed compressors and equipment controllers is available for customers. A worldwide service organization supports all our products.
"Wastewater has changed dramatically in recent years. It contains less water and more solids, fats and fibrous materials, which places tough new demands on collection networks," explains Marc Redit, Head Global Business Development in municipal water. "Our Piranha sewage pumps pump and grind at the same time. With the Muffin MonsterTM sewage grinders (Fig. 5), we can now offer extra insurance against the clogging of wastewater pumps. The dual-shafted grinders work with high torque and cut through the toughest solids and soft fabrics. The grinders shred shoes, plastic bottles or even wet wipes into small pieces," Redit adds. Blocked wastewater channels caused by hardened fat and wipes, as was the case in London, Denver and Melbourne, can be significantly reduced with the Sulzer product range.
An extensive range of equipment controllers and monitoring devices are also able to give real-time information on the condition of the pumps. This allows customers to carry out targeted, preventive maintenance and optimize performance in their wastewater channels.
Municipal wastewater treatment (8)
UNESCO assumes that globally, it is likely that over 80% of wastewater is released to the environment without adequate treatment. This will increase threats to human health, the environment and sustainable development. Wastewater management systems are getting more and more important around the globe. Operating costs are as important as investment costs. When planning wastewater or water treatment plants or upgrading existing ones, it is important to use innovative pumps, mixers, compressors, aeration systems etc., which combine treatment performance with superior energy efficiency.
Wastewater pumps and static mixers must be able to cope with all foreign particles that enter and pass the system. Sulzer's blockage-resistant pumps and anti-clogging static mixers provide the highest possible level of additional protection.
To prevent sedimentation and stratification, it is important to mix and homogenize wastewater. High demands are placed upon the submersible mixers. We offer solutions that combine mixing with soft aeration.
The biological treatment process is at the core of a wastewater plant and removes organic, biodegradable substances via microorganisms. Our compressors, aeration systems, submersible mixers and agitators deliver the necessary oxygen for this process, which reduces nitrogen and phosphorous in the wastewater.
Alternatively, Sulzer's static mixers (Fig. 7) can be used inside piping or in open concrete channels for various mixing operations in wastewater and sludge treatment processes. "Effective mixing reduces excess doses of additives and can create savings of up to 45%
—
thus serving the environment and cutting operating costs," explains Andreas de Fazio, Head of Sales for static mixers in water applications.
Flood control and dewatering (9)
Sometimes cities and towns are situated in areas with potential flood risk. Either they have been built below sea level or in regions with heavy rain seasons. Climate change is also challenging natural disaster prevention. The number of people at risk from floods is projected to rise from 1.2 billion today to around 1.6 billion in 2050 (nearly 20% of the world's population) according to the United Nations Water Report 2018.
When water runs off the land in large quantities, Sulzer's comprehensive range of pumps provides reliable, cost-effective and efficient solutions for flood control.
Dewatering of cellars in houses and large buildings needs additional, reliable pump capacity at short notice. Sulzer's dewatering pumps are often used in demanding construction projects – from roads and bridges to tunnels and dams. Trouble-free operation and low energy consumption is a precondition for optimal lifecycle management when pumping slurry water.
It is no wonder that Sulzer pumps were used for dewatering in Thailand, where a youth football team was caught by flood in a natural cave in 2018. Our local partner, DungDong, supplied Sulzer equipment and expertise for water removal from the caves free of charge. Eighteen heavy-duty Sulzer pumps extracted water day and night until the rescue was completed. Sulzer employees are proud of our blue pumps, which could be seen on many of the rescue pictures (Fig. 8).
Sulzer is thinking ahead and even creating unusual business models. A rental business for dewatering pumps has been successfully implemented in Spain and we are looking forward to replicating this in other countries.
Main products and model range for flood control and dewatering
Industrial water and wastewater treatment (10) (11)
Water is used for many industrial purposes, e.g. washing, cooling, heating, boiler-feed and firefighting. In many production processes, water serves as a diluent, reaction medium or as a raw material. For all industrial water and wastewater treatment processes, we provide energy-efficient and reliable pumping, mixing and aeration solutions. Besides that, Sulzer offers turnkey systems to treat industrial water streams and reduce pollutants down to ppm range or eliminate harmful substances from the water before or after industrial use.
Before using water for industrial processes, the water might be treated to make it cleaner, potable or ultra-pure. And after the water has been used, it could be treated again before being discharged into a body of water or reused in the production process. Our equipment is suitable for upstream and downstream treatments in many industries: pulp and paper (Fig. 9), oil and gas, chemical processing, pharmaceutical, food and beverage, metals and mining, and more.
"To suit the different requirements of various industrial water and wastewater treatment applications, we offer a very wide range of products," explains Fabrice Martin, Business Development Manager Industry. "It's a unique combination of products used for municipal water and wastewater treatment with other products used for the main industrial processes. Particularly for aggressive or abrasive industrial effluents, we are the leading pump supplier thanks to our material expertise", Martin adds.
Main products and model range for industrial water and wastewater treatment
Additional industrial water and wastewater treatment (11)
Besides the pumping, mixing and aeration of industrial wastewater, there is additional treatment needed to remove impurities and chemical substances.
Jörg Koch, Product and Application Management Liquid-Liquid Extraction, comments: "A typical application is the removal of organic impurities from a process water stream. Depending on the physical properties, the aqueous stream is treated in a stripping column, in a liquid-liquid extraction column, a crystallization unit or in a combined process."
After treatment, the water can be reused in the process. Often, the removed organic substance is pure enough to be refed directly into the upstream production — a big step towards environment-friendly zero emission production. Sulzer supplies such treatment plants as integrated skid-mounted units. Fig. 10 shows a plant where a liquid-liquid extraction with two distillation columns is in use.
Sulzer pumps are used in many processes to move all the liquids involved, for example in filtration, in membrane processes (ultra- and nanofiltration, reverse osmosis) as well as in biological or chemical treatments. For special applications, Sulzer also offers tailor-made process solutions involving the full range of separation processes, like evaporation, distillation, extraction and crystallization. For process evaluation and reliable scale-up, we run pilot tests for all these operations in our in-house test center.
Quite often, a combination of different technologies — a hybrid solution — is the key to a successful and competitive production plant. Producers of phenolic resins make use of such efficient hybrid solutions. "For water treatment and recycling, we offer unique and flexible combinations of different operations in one skid-mounted module. These solutions are ecologically and economically attractive – compared to incineration or disposal," explains Jacques Juvet, Head Sales Process Plants ERA, Switzerland.
Main products and model range for chemical industrial water and wastewater treatment
Desalination (12)
According to the International Desalination Association (IDA) in 2018, the installed desalination capacity is 97.4 million m3/d, which equals about 1% of the world's drinking water. The water was delivered from more than 20'000 desalination plants (Fig. 11). Converting sea water into freshwater has been a human ambition since the ancient Greek times. During the second half of the 20th century, desalination technologies based on evaporation and distillation process were implemented already at an industrial scale. However, boiling saltwater uses a huge amount of energy, which forced the industry to continue research to find new solutions.
Nowadays, 90% of desalination technologies are based on a reverse osmosis (RO) process using membrane technology. Thanks to the RO process, the costs of removing salt have decreased by over 50%, making water much more affordable in those regions where no other freshwater source is available. Pumps play a critical role in this process, because they consume most of the power needed in such RO desalination plants. Knowing that up to 65% of the operating expenditure (OPEX) are power costs, Sulzer puts all its effort into developing and supplying the most efficient, cost-effective and corrosion-resistant pumping solutions. Research is ongoing to develop desalination methods with lower energy consumption that can be used on an industrial scale.

The CompaXTM and KVMTM static mixers are used for different stages of water treatment such as: removal of solids and impurities, disinfection to destroy bacteria, pH-control for acid and base neutralization, after-treatment with upstream injected chemicals, etc. Desalinated water needs to be enriched with oxygen, carbon dioxide and minerals. With the help of the SMV static mixer this is done quickly and cost-efficiently. Fig. 12 shows a sidestream installation, where a static mixer and a pump are combined to admix chemicals to a water flow. The pressure loss is very low when using the high-efficiency Sulzer static mixers. This means that the power consumption of the pump is only slightly increased.

All static mixers offer a good mixing efficiency (CoV ≤ 0.05) without any moving parts and do not require any maintenance over the whole lifetime. Static mixers can also be used to admix coagulants and alkali (base substances) and other chemicals which are used to treat drinking water.

With all these products, Sulzer supports desalination plants to produce potable clean water in the most affordable way and to help regions where other water sources are limited.
Water for hydropower generation (13)
To produce CO2 neutral energy, some water reservoirs are used as hydroelectric power storage stations. In former times, Sulzer was renowned for hydrogenerators and turbines. Today, Sulzer is active in this area as a service partner for hydrogenerator maintenance, rewinding, and redesign. We rewind stators up to 65 MVA, and we re-engineer replacement parts for lifetime extension. The size of these stators is remarkable — up to 7.5 m diameter — and requires a high skill level in precise manufacturing, balancing and transport.
Because storage power stations are all individual, Sulzer delivers customized, individually adapted pumps. The HPDM pumps offer heads of up to up to 700 m and 1'000 to 20'000 m3/h capacity.
Main products for hydropower generation
Digitalization for pumps and pipelines for process optimization
Some pumps, like the submersible drainage pumps from the XJ series, can be installed with AquaTronic built-in electronic supervision and level sensors. This enables operators to optimize the pump running behavior and settings.
To meet the different needs of water pumping stations, Sulzer offers a wide range of pump controllers with powerful, unique features and data transfer options. These controllers can be set to display alarms, control water levels or change pump settings — even via remote control.
The integration of IoT (Internet of Things) into existing productive environments, for instance, water pump and pipeline installations, offers proactive maintenance options and cost savings never before possible. Sulzer developed a software tool called BLUE BOXTM that captures essential process data. The BLUE BOX software can analyze data from any pump or pipeline equipment — no matter who the manufacturer was.
In countries with desalination plants, water pipelines are used to pump the water from the seaside to inland areas. In near real-time, water pipeline operators can acquire all essential process data. Depending on the installed sensors, the data can comprise pumped volume, pump efficiency, motor heat, vibration level, energy consumption etc. BLUE BOX combines the available data with Sulzer's pump expertise. This enables the software to send automated warnings to the pipeline operators in the event of problems. The advanced analytics systems can detect anomalies in performance and predict imminent failures, thereby gaining valuable time for the operator to conduct maintenance. Thanks to the pump data acquired from the field, operators can act proactively and thereby reduce operation and maintenance costs by up to 5%.
"BLUE BOX creates easily understandable graphics from the data (Fig. 13). It enables managers to interpret the data and make decisions quickly based on facts. Thus, the performance of pump systems and installations can be improved, maintenance can be performed on time, and system settings can be optimized," states Marc Heggemann, Head of Group Commercial Digital Solutions.
Sulzer's BLUE BOX IoT Advanced Analytics recently won the Gold Certificate Industry 4.0 at the Swiss Digital Economy Awards in the category Highest Digital Quality.
Support for pump selection
Not all Sulzer products are listed above. As Sulzer has such a wide range of products, we also offer support for process definition and pump selection. To save energy, the right pump selection is essential because the pump should operate close to its best-efficiency point (BEP). Sulzer offers online tools for pump selection to make it easier for customers to select pumps or agitators themselves. The online tools Sulzer Select and ABSEL are available for registered customers and can be set to metric or imperial values. Feel free to visit www.sulzer.com or contact your local sales representative for a personal consultation or for recommendations for your specific water application.
Every drop counts
Research is ongoing around the world to save water in agriculture, in cities and industries. A big focus today is on nature-based solutions. For example, water storage in the environment or green roofs and areas in cities would help to reduce the runoff of water after heavy rainfalls. Water is the most important natural resource. Try to keep a close eye on your personal water consumption. Let's keep our lives fluid.
Sulzer Technical Review
Editor-in-Chief
Sulzer Management AG
Neuwiesenstrasse 15
8401 Winterthur
Switzerland
You may also be interested